Theatre Square is considered one of the most heavily encumbered areas of the historic centre of Athens in terms of land use, housing for immigrants, abandoned listed buildings and ghettoisation phenomena.
Launched in 2016, "Book & Play" uses game-based education methods and engagement, mobilisation, socialisation and awareness-raising techniques in training and capacity building activities addressed to the area's vulnerable groups.
In 2019, "Book & Play", in partnership with the non-profit civil law partnership "We need books", hosted the following weekly activities: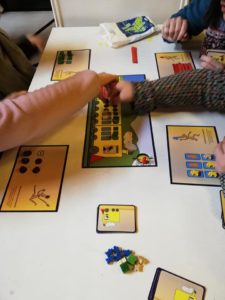 "Create – Play – Learn" for 5- to 12-year olds (immigrants, refugees, children of low-income families).
"Social Coaching School ('Frontistirio')" for low and upper secondary school students.
"Capacity building for young women" aged 16 to 26, offering training in social entrepreneurship and technology.
"Playing without borders": intergenerational game for people aged over 65 and young people.
Training workshops in play-based capacity building methods, addressed to future trainers of vulnerable groups.
Empowerment workshops for vulnerable groups, using game-based methods.
The programme's reach stands at 1275 direct beneficiaries, among which are people with dementia, mental disabilities, physical disabilities, elderly people and children with autism, and 3000 indirect beneficiaries.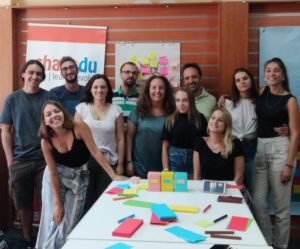 In their own words:
"We went back to our hosting place and decided to build the game for ourselves, so that we can play whenever we want!"
Echsan and Hussein, teenage refugees
"What you did for us was amazing! We played together with the young people and we became children again, as if no borders existed."
Thanassis, elderly dementia patient
"It was the best seminar I ever attended as a professional. In all the years I've been working with dementia patients, I have never experienced anything so powerful."
Georgia Pratila, Psychologist